153 Mile House General Store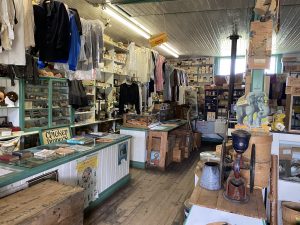 In the Cariboo there is a gem of a General Store, that originally belonged to the Crosina family. Louis Crosina came from Italy to this area around 1900 and set shop near 150 Mile House with his wife Clara. They had 4 children, of which daughter Alice 'Lil' Crosina continued the store after her parents.
The store has been in operation since 1903, until Alice literally died behind the counter in 1963. Since then, the shop closed, making it a trip in a time machine. Some of you might recognize brands that were used back in the day…
It is on private property, so it is not open to public. However, there are plans to move the whole shop to a different spot and turn it into a museum.