Cody
Cody is a little satellite town just 2 km away from Sandon. In 1897 Cody had a population of about 100 residents, who were serviced by three hotels, a post office, a blacksmith, livery, a dress maker and three laundries. The main employer of the town was the Noble Five Mine, which closed in the early 1940s following a devastating fire.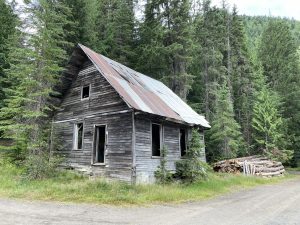 Nowadays, Cody has only 1 resident, living a bit uphill in a newer house. People are starting to build more small houses under the trees of Cody. Only a few of the old buildings have survived. The main building is the station house, right at the entrance of this little town.
Here's an excerpt of "Ghost Towns and Drowned Towns of West Kootenay" by Elsie G. Turnbull:
One mile up Carpenter Creek from Sandon was the settlement of Cody. Here, Tom Mitchell built a mill to treat ore from the Noble Five group of mines and on a few acres of flat ground a small townsite was laid out in the 1890's. John M. Winter built a two-storey hotel which accommodated 50 guests, followed by a second hotel run by W.E. Terril, while A.B. Docksteader operated a general store and post office.
Population reached 100 in 1897 and everybody thought Cody had a great future in store. But every spring, slides and avalanches swept down Cody Mountain, carrying men and horses to their death and demolishing mine buildings. Somehow Cody escaped destruction, but many times the road to neighbouring Sandon was carried away or the train blocked by snow. Because of the constricted valley, mine workers preferred living in Sandon. By 1903 only one family, the Winters, remained.
Mrs. Winters had narrowly escaped death when the railway coach she and her child were in, broke away and ran down a grade. Fortunately, both were unhurt, but in late November 1903 even the Winters joined the exodus. The Noble Five Mine was worked intermittently until the 1950's, but by then Cody had long been only a memory…
How to get there
From Revelstoke, take the Hwy 23 south to Shelter Bay. There you have to hop on the ferry to get to the other side of Upper Arrow Lake. Follow Hwy 23 south to Nakusp and then follow Hwy 6 southeast to New Denver. In New Denver make sure you turn left onto Hwy 31A towards Kaslo. This stretch is also called the Valley of the Ghost highway, as there are several ghost towns along this road. After a few kilometers on this highway, you can take a right on the Sandon Cody Road towards Sandon and Cody. From Sandon, Cody is just 2 km further down the road.