Alice Arm
Alice Arm is an almost abandoned settlement and steamship landing, named for the Alice Arm of the Observatory Inlet. It was Captain Daniel Pender who gave Alice Arm its name in 1868, by in honour of Alice Mary Tomlinson. She travelled with her husband immediately after their wedding day in 1868 on a 24-day journey from Victoria to Kincolith in a Haida canoe.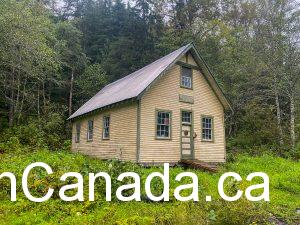 Dolly Varden Mine
The community of Alice Arm supported the operations of the Dolly Varden Mine. In 1910, four Scandinavian prospectors discovered rich silver deposits in the middle section of the Kitsault River watershed, about 14 miles (23 km) north of the head of Alice Arm. The discoveries, called the Dolly Varden claims, were exceptionally rich in pyrite, galena, silver ore, and native silver. By the way, the name 'Dolly Varden' comes from the heroine of the Dickens' novel Barnaby Rudge.
Railway
A narrow-gauge railway was built that ran for 16 miles (26 km) from tidewater to the mine site. The mining company transported equipment and supplies to the mine. Furthermore, it transported ore from the mine to a loading dock on Alice Arm for shipment to a smelter. In 1919, the Taylor Mining Company took over both the Dolly Varden Mine and the railroad. Dolly Varden produced 1.3 million ounces (36,854 kg) of silver. In the mid-1940s, the railway was replaced by a road.
Today, Alice Arm still buzzes with hope of finding the next big silver "find" as exploration crews scour the valley in the summer. Other than that, the town is largely abandoned with a scattering of locals who spend the summer in the town. With the ghost town of Kitsault on the other side of the inlet, Alice Arm is even more isolated.
How to get there
Just like Anyox, Alice Arm is very remote and hard to get to. You can get there either by sea plane or by boat from Prince Rupert (140 km south). Or you can book a trip with Northern BC Jet Boat Tours (https://www.northernbcjetboattours.ca/tours/) between May and September. This exclusive trip will take you to Alice Arm, Anyox and Kitsault with an overnight stay. For a discount code, click here: https://olafincanada.ca/contact/.