Quesnel Forks
Quesnel Forks was established in 1859, when miners discovered gold in this secluded valley of the Cariboo. Its former name was Forks City or Forks of the Quesnelle, as it was located on the fork of the Quesnel River and Cariboo River.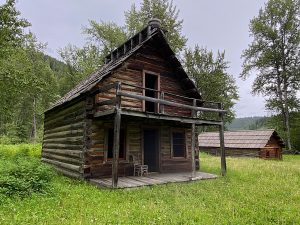 In the early 1860's it had the fastest growing population in the colony, and some even ventured that it would become the capital of British Columbia. However, in 1865 the Cariboo Wagon Road to Barkerville bypassed Quesnel Forks and those grandiose dreams were put to rest.
Between 1870 and 1890 it had the 3rd largest concentration of Chinese in the province, next to Victoria and Nanaimo. The city had four general stores, a few hotels, butcher shops, market gardener's, pharmacists and doctors and a resident watchmaker.
As the gold ran out however, so did most of the population. In the 1940's only 50 residents remained, until heavy rains washed away the only bridge in 1948. In 1954 the last resident passed away and Quesnel Forks was left to the elements until the mid-1990's.