Kitsault
Just across the Observatory Inlet from Alice Arm is the modern-day ghost town of Kitsault. The name Kitsault is derived from the Nisga'a language, which means "at the inside". Between 1967 and 1972 Kitsault was just a mining camp not accessible by roads. The workers came by boat from Alice Arm. Their molybdenum mine was a strong producer with considerable reserves left at closure. They used molybdenum (molly) in alloys to provide hardness and corrosion resistance. In fact, molly was so hard it was commonly used in the nose cones of rockets in the arms race.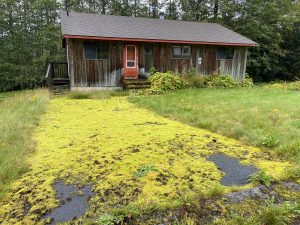 State-of-the-art town
When prices of molly went up again, Amax of Canada Ltd opened the Kitsault Molybdenum Mine, and built the townsite of Kitsault between 1978 -1980. With views over the ocean and dramatic mountains in the background, Kitsault seemed to be the ideal location for a community. The idea was not only to house the workers, but also to create a complete social economic environment for their families.
All the services were underground, including cable-vision and phone lines. There was a state-of-the-art sewage treatment plant and the cleanest running water in the province. The town had a fully serviced shopping mall, swimming pool, basketball court, curling rink, hospital, pub, movie theater, apartments and houses.
Decline
Just as abruptly as the activity had started, the mine closed in 1982 when stock prices for molybdenum dropped dramatically on the world market due to a global economic recession. After just 18 months as a community, just as the people began to settle into their new lives, the town was emptied of people.  Convoys of moving vans began to work their way in from Terrace and the road closed to public access. The last residents moved out in the fall of 1983 and Kitsault became a ghost town.
Preservation
Unlike many B.C. ghost towns, Kitsault was not left to disappear back into the forest. Amax hired caretakers and made the decision to leave the power and heat on in the buildings. Good idea, the North Coast can be wet and snowy. Lawns were mowed and the relentless rainforest growth of trees was kept at bay. Everything remained intact, as if the residents had suddenly walked out of the buildings and mysteriously disappeared. For 22 years, Kitsault sat untouched behind locked gates, like a time capsule waiting.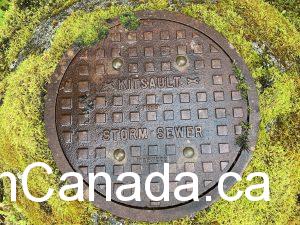 Privately owned
Finally, in 2005 a Virginia businessman bought Kitsault sight unseen by for 5.7 million dollars and a new company, Kitsault Resorts Limited, was formed. This company began restoration and reactivation work on the townsite with the goal to develop a world-class eco-resort. Until now, the town has still sat vacant other than caretakers and a summer crew of maintenance people. Everything still remains relatively eerily as it was in 1982. Nobody knows for sure what the cost of the town was. Some say $50 million in 1980-dollars, or about $50,000 dollars a month to house a worker and his family in 1980.
How to get there
Kitsault is northwest of Terrace. To get there, you have to drive for about 4 hours from Terrace. Half the drive is on a dirt road and only accessible from May until October.
Remember that Kitsault is privately owned. The only way to visit this ghost town gem, is to book a trip with Northern BC Jet Boat Tours (https://www.northernbcjetboattours.ca/tours/) between May and September. This is a 1-day trip, but you can extend it to visit Alice Arm and Anyox as well. For a discount code, click here: https://olafincanada.ca/contact/.